Aquafaba: do you know it?
It literally means bean water ... the water we used to pour into the sink when we emptied a can of chickpeas. What you need to know is that the water in cans of chickpeas mimics the protein in egg whites, making them a very good egg substitute.
When using aquafaba in baking, it must be beaten first at low speed.èAs soon as the water becomes a foam enough thick, éadd sugar at high intensity - after a few minutes it will turn shiny and increase in volume. Be patient, it takes longer than turning eggs into snow.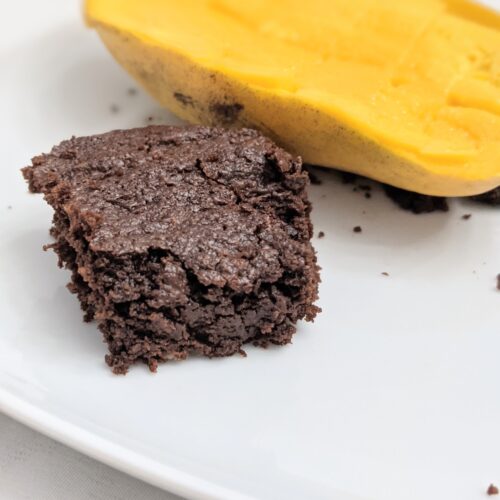 Chocolate brownies with aquafaba
fudgy Chickpea Brownies complete with a decadent chocolate centre and the perfect crackly top | Gluten Free + Vegan
Ingredients
2/3

cup

| 145 g coconut oil - can be replaced by salted butter

1

cup

|180 grams dairy free dark chocolate chopped finely or in chips

1/2

cup

| 120 ml aquafaba (the watery brine from unsalted cans of chickpeas)

3/4

cup

| 150 grams brown sugar

1

tsp

vanilla extract

1 1/2

cup

| 150 grams flour

1/4

cup

| 22 grams unsweetened cocoa powder

1/2

tsp

baking soda

1/2

Cup

| 90 grams dairy free chocolate chips, optional
Instructions
Preheat oven to 325°F/160°C. Lightly grease or line an 8x8inch baking tin. Set aside

Place the coconut oil and chopped chocolate together in a microwave safe bowl. Melt in 30 second increments whisking after each segment until the chocolate is completely melted and smooth. Once melted set aside to cool.

In another large mixing bowl beat the aquafaba and the sugar together with an electric mixer until thick and shiny. Mix in the vanilla extract and the melted chocolate mixture.

Stir in the flour, cocoa powder and baking soda. Mix until you have a thick, fully mixed batter. Stir in the chocolate chips.

Pour the batter into the prepared baking tin. Bake for 30 minutes and then check for doneness. Insert a knife or tooth pick into the centre of the brownies - if it comes out with a wet batter it needs more time. If only a few moist crumbs remain on the knife/tooth pick it's done. If you need to cook the brownies longer check every 3-4 minutes until it's done and then remove from the oven.

Let the brownies cool in their tin completely before slicing into.
Notes
You can use the juice from canned beans of all kinds - chickpeas, kidney beans, black beans ...
For a 100% vegan recipe, replace the flour with chickpea flour.