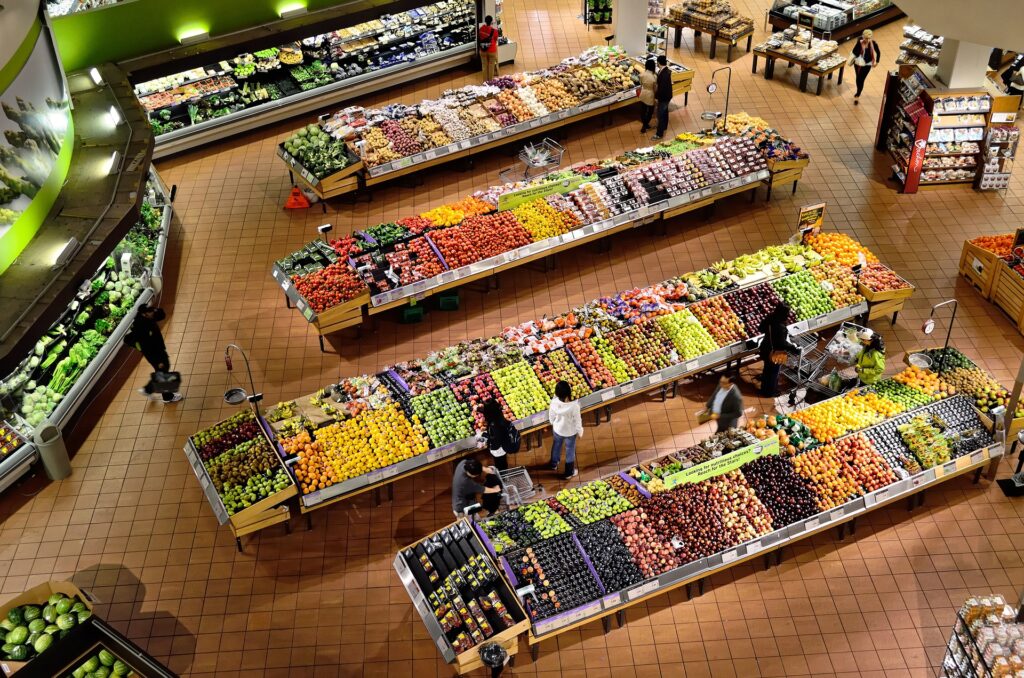 Food in France is an institution. We love to eat and we have great recipes that follow us through our travels. But to succeed in a recipe, you need the right products and it can be an adventure to obtain them depending on the country where you are. 
Moving to the United States has nothing to do with moving to Asia or Africa. The mode of consumption is identical: there are supermarkets which offer for sale food products similar to what we find in France, with a few exceptions. 
When I arrived in NYC, my man, who had been there for a month, hadn't really had a "good" meal since leaving France. (By good I mean eating vegetables and anything other than junk food !!). I wanted to please him and prepare a balanced and succulent dish for him. Unfortunately, the romantic evening around the table did not go as expected. Blame it on my purchases.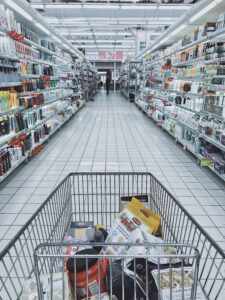 Do Shopping In The USA
My first American experience at the local supermarket was confusing. It looked a lot like a treasure hunt where the products were the jewels to find - the pasta was in 2 departments (cereals and international), the eggs in the fridge (because here in the US the eggs are washed and have therefore lost their protective layer.), no salted pie dough or crème fraîche (I have since found some), puff pastry in the freezer… a succession of discoveries and misfortunes. 
After 2 hours I went out with my shopping and on the evening menu a piece of beef accompanied by small vegetables.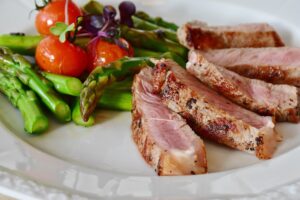 My first mistake: cooking red meat. It is during these moments that we realize how much we are marked by stereotypes. To make a man happy, you have to cook meat for him. False: a man can perfectly be satisfied with a meal without meat.
My second mistake: the quality of the meat. I didn't want to pay the price (you can find very expensive pieces of meat). And so I chose a product not too cheap but not too expensive.
The result of my dish was more than disappointing. Despite a thermometer to stop cooking at a rare temperature, we ate a steak with slightly pinkish. 
Cooking problem, no! Why then: I had bought a basic meat, that is to say raised in hormones, a meat that had grown too quickly ... 
Animal husbandry specifications are not as strict as in Europe. In the United States, beef can be processed with hormones to speed up growth or milk production.
This meal had the merit of clearing things up and warning us about our food purchases.
What I put in place 
Being meat lovers, we have not become vegetarians. On the other hand, we only buy organic meats and almost no red meat. 
We have significantly reduced our intake to eat only 4 meals a week. I cook a lot more vegetarian meals. (article " The Food Paradox ")
So when we buy meat, we put the price on it and make sure to cook it to perfection. 

How to choose your meat? 
To find out what is in meats, look at the labels of organic products. This is how I discovered a list of substances (some unknown) that were not present in organic products: Nitrites - nitrates, hormones, antibiotics (be careful if you want meat that has never had one, choose with the concept EVER), MSG ...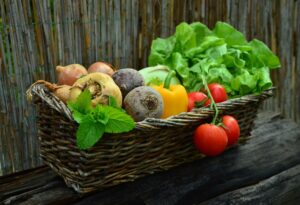 How to choose the vegetables?
Buying local, seasonal and organic remains the priority when shopping (article " Eating well in the 20th century "). 
As in France, local producers have organized themselves to sell baskets of seasonal fruits and vegetables directly to consumers through CSA boxes. But for some fruits, I deviate especially when the desire for fruits from South America or the islands is very strong. 
From my point of view, vegetables don't always taste as strong as in France. I take the example of cauliflower, which even during cooking gives off a strong enough odor to the point of being uncomfortable (tip: add a cork stopper during cooking to absorb odors).éricaine ne libèThe American version does not release any odor and the taste is rather neutral.
You should also know that in the United States, the content of pesticides and other treatments for crops is much higher than in Europe, especially Glyphosate. Buying organic food is a common sense choice although the higher prices can be a limiting factor.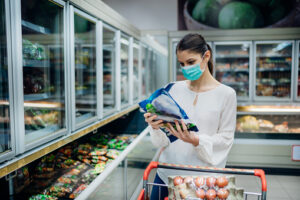 How to choose the prepared meals?
One of the golden rules for responsible purchasing and reducing waste is to prepare meals as much as possible. Except it's not always possible. Mom can't do everything and she needs breaks.
However, be careful with your purchases: read the labels again !
In 2016, Michelle Obama unveiled the country's first update to nutrition labels in more than two decades - a move that helped cement her campaign to encourage Americans to eat healthier.
This new labeling made it possible to highlight the amount of added sugar in the preparations. Sweetness is part of everyday life for Americans. Canned soup, ham and other meats, cakes of course, wine… are mostly prepared with an additional sugar intake.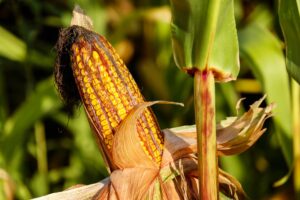 Why ? The story goes back to the 1970s. Source: Against the Grain by Richard Manning, published in 2005.
Corn subsidies played a role, but another less famous government intervention probably played an even bigger role. The story began in early 1971, when a massive surprise sale of American grain to the Soviet Union sparked a surge in corn prices, which in turn led to a massive surge in corn planting. In the mid-1970s, supported by subsidies, farmers continued to plant "from fence to fence," as Earl Butz, then head of the Department of Agriculture, put it. 
The result: massive overproduction of corn. (The current corn glut, in the wake of the 2006-2012 ethanol boom, has followed a similar pattern.) 
Corn processing giants like Archer Daniels Midland had access to all the cheap corn they could want, but could only profit from it if they could find new markets for corn products. The company came up with two big ideas: ethanol, designed to disrupt the massive gasoline market; and high fructose corn syrup. 
This is how we end up with sugar in most foods prepared in the United States. And I don't talk about soda ...
In the end, we cannot say it enough: eating well starts with shopping and being vigilant when it comes to sourcing products. Eating healthy and environmentally friendly foods makes good sense. Bon appetit !
In short, the 5 tips for combining a healthy diet that respects the environment:
Eat less meat
Favor products from organic farming
Read labels before each purchase
Buy local (csa…) to support a local business

é

and limit transport
Buy from season for r

é

to reduce water consumption and

é

nergie n

é

required

to

culture.
NB: But what is American organic?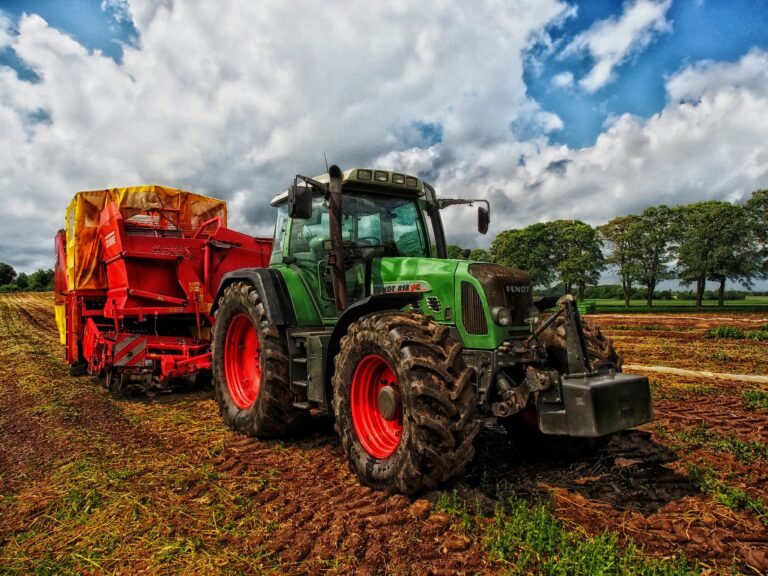 The United States Department of Agriculture National Organic Program (USDA) defines organic foods as follows:
Organic food is produced by farmers who emphasize the use of renewable resources and the conservation of soil and water. The aim is to improve the quality of the environment for future generations. In addition, organic meat, poultry, eggs and dairy products come from animals that do not receive antibiotics or growth hormones. Finally, organic foods are produced without using most conventional pesticides.
An animal is considered organic according to USDA regulations and standards. An organic animal should eat organic food and not receive injections of hormones (mainly BGH, rBGH, rBST), or synthetic pesticides, fungicides, or herbicides. He also needs to spend time outdoors and have enough space to live comfortably.
The USDA strictly specifies which products may and may not be labeled organic. However, not all organic meats are labeled as such. Getting organic certification is expensive, too expensive for some smallholder farmers.