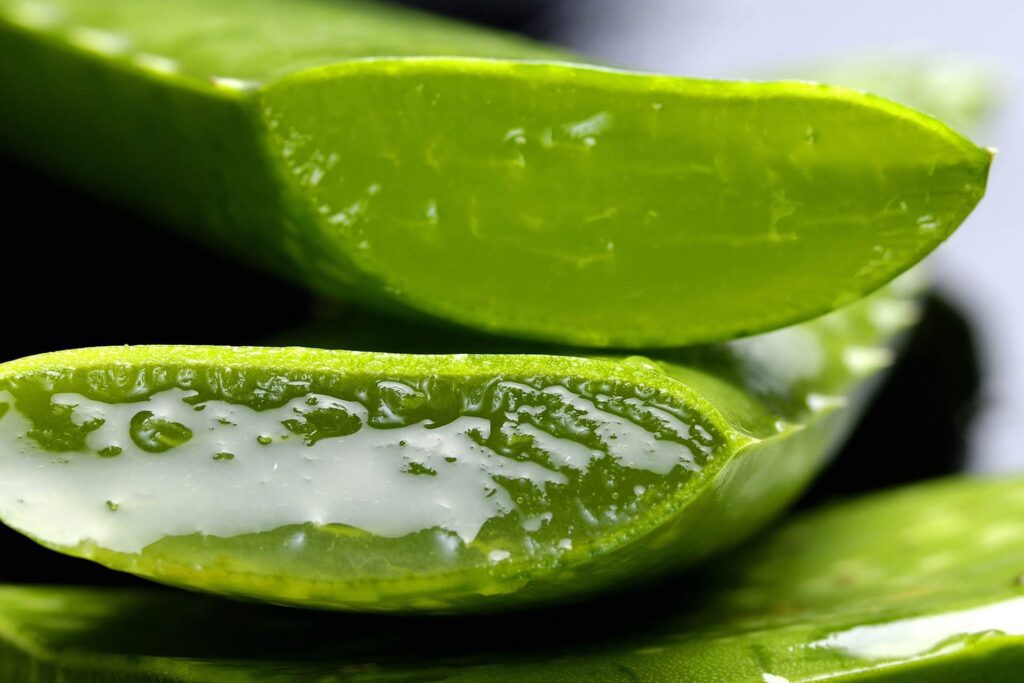 The skin of the face is more fragile than that of the rest of the body. It should therefore be taken special care.
The current trend is for layering, a beauty ritual that comes to us from Asia. As its name suggests, this ritual involves adding several steps to our beauty routine; make-up removal, cleansing, tonic, serum, eye contour and moisturizer.
Today, I am offering you a simple, natural, quick serum and above all adapted to your skin type.
WHAT IS A SERUM?
The serum, sometimes called an elixir, helps to heal the skin in depth. It is applied to cleansed, makeup-free skin. Usually at the end of our beauty routine, just before going to bed or in the morning.
My serum recipe is made from vegetable oil and aloe vera gel. You will find a lot of serums using essential oils. In my case, I prefer to avoid their use. I am not a naturopath, but above all, essential oils have been shown to be very toxic to aquatic flora and fauna. 
CHOOSE YOUR VEGETABLE OIL
Why use an oil for a treatment? because your skin needs nourishment, even oily skin.
It is mistakenly believed that its application will leave an oily film that will make the skin shine. This is true if you haven't made the right choice of product. Like soap, there is an oil for each type of skin. Depending on the situation, you will opt for an oil that is less absorbent or, on the contrary, for a dry oil. 
To help you, oils adapted to the type of skin:
And then since we often have small specific problems to deal with:
It is quite possible to use several oils to best adapt your serum, this is only more beneficial.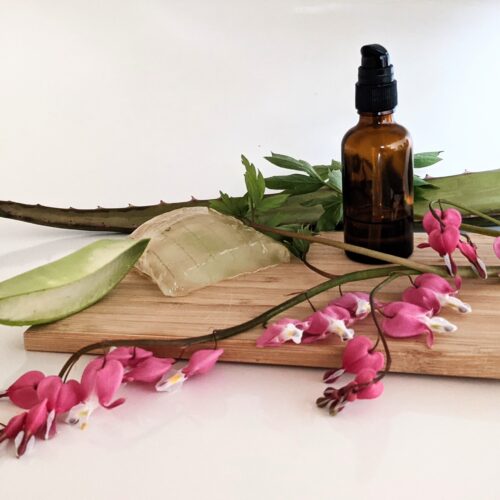 Serum for the face and around the eyes
The serum, sometimes called an elixir, allows us to heal the skin in depth according to our needs.
Ingredients
Same volume of aloe vera gel and vegetable oil. For example :
20

ml

aloe vera gel

20

ml

vegetable oil suitable for your skin 
If you are using a commercial gel, no need to add a preservative. Otherwise add 2% to 4% of a preservative either for our example
10

drops

a preservative for the aqueous phase - Cosgard or Leucidal
Instructions
In the bowl, pour 20 ml of aloe vera gel.

Add 20 ml of vegetable oil suitable for your skin.

Whisk well until you get a smooth texture, and your serum base is ready! 

Add the preservative if necessary
Notes
You can use it as is, as long as it is stored in the refrigerator. 
If you want to use your serum at room temperature, it is essential to have a preservative.
If the serum is too oily, you can change the proportions: 2/3 gel, 1/3 vegetable oil.
You can mix the oils for a

é

desired effect.

é.